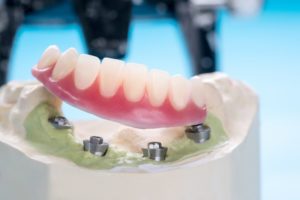 For decades, dentures have provided the ability for people who have experienced the loss of their teeth to be able to regain oral functionality and have restored smiles. However, if you've had or currently wear traditional dentures, then you know the many ways in which they can be a major nuisance. If you're ready for a better option, keep reading to learn what your local dentist has to say about the benefits of implant-retained dentures in Jonesboro.
The Benefits of Implant-Retained Dentures
Traditional dentures are designed to fit securely on top of the soft tissue that spreads over your gums. Over time as you age, the bone below the surface of your gums will begin to deteriorate, especially without your natural teeth to help keep it strong. This will ultimately cause your dentures to become less stable in your mouth which is why many people struggle with keeping them in place. Here are some of the main benefits that you'll get from switching to implant-retained dentures:
More Simplicity and Better Stability
As previously mentioned, if you've been wearing dentures for a while, you're likely familiar with the embarrassing clacking and slipping out of place that can happen over time. With implant-retained dentures, this is no longer something you will have to deal with, because the implants act as anchors for your dentures that will be fused to your jawbone to hold the them firmly in place without any adhesive needed. Plus, you no longer have to deal with daily removal to clean your dentures and keep up with them while they're out of your mouth.
Stronger Bone Structure
As people grow older, many begin to experience weakening of their jawbones. When the implants fuse to the jawbone, it actually promotes new bone growth, keeping your jaw and facial structure intact as you age. This also helps to promote overall oral health by preventing your gums from receding and leading to periodontal disease.
Increased Self-Confidence
There's nothing worse than trying to enjoy a meal with family or friends and having to worry about how you're chewing to make sure your dentures don't come out in the middle of a bite. With dental implants, your oral functionality will be improved because your implants will be just as stable as your natural teeth once were. This will give you the confidence to talk, laugh, eat, and enjoy your life to the fullest without worrying about your teeth shifting.
In addition to improved oral health, implant-retained dentures remove the frustrations that come with traditional dentures. If you're ready for a more confident and functional smile, talk to your dentist about how they can enhance your quality of life.
About the Author
Dr. Sarah Phillips Yarnell leads the team of experts at Woodsprings Family Dental. She has extensive experience in restoring smiles through implant-retained denture treatment. Her practice is built on trust and long-lasting relationships with her patients, and she is passionate about improving their lives through enhanced smiles. Are you ready to talk about making the switch to implant-retained dentures? Schedule a consultation online or call (870) 932-8488.