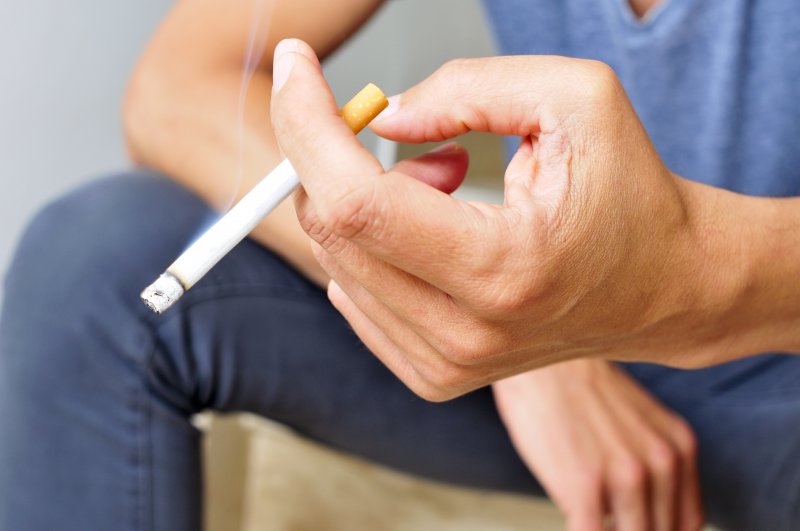 If you plan on getting dental implants in Jonesboro or you've just received one, dentists cannot emphasize enough how important it is that you do not smoke or use tobacco in any form. The fact of the matter is using tobacco, especially right after you receive a dental implant can cause the implant to fail. In this post, we'll highlight a common study used by dentists to explain this fact as well as the requirements needed to ensure the most successful dental implant treatment possible.
How Research Backs Up the Claim
According to a research study conducted in Spain, scientists studied 66 patients who received 165 dental implants. Upon receiving these implants, the researchers kept track of them over the next five years. Based on the data, the implant failure rate amounted to 15.8 percent for smokers. This is in stark contrast to what the implant failure rate was for non-smokers, at just 1.4 percent.
Dr. Arturo Sanchez Perez, a researcher at the University of Murcia in Spain, notes that people who smoke are at greater risk of infection following surgery and may also experience slower healing times. "When an implant is placed in a smoker, it is more than likely to fail."
While tobacco is not the only cause of dental implant failure, it is by far the most common and most likely to cause problems. This is because tobacco affects the gum and bone tissue's ability to properly integrate.
What Exactly are Dental Implants?
A dental implant is a sturdy metal post that is placed directly into the jaw underneath the gum tissue. Once placed, it can begin a process known as osseointegration. This refers to the jaw's existing bone tissue integrating with the biocompatible material used in the implant, which in most cases is titanium. After the implant is placed, an abutment is affixed to the exposed top, giving it room for a restoration to attach. This restoration could be a single porcelain crown, a bridge or a full or partial denture.
Treatments for dental implants are typically performed by an oral surgeon. However, if the dentist has the training necessary to perform the treatment, it can also be completed in a general dental office.
Are You Eligible for Dental Implants?
Just like any oral surgery, you need to have sufficient oral health before you can receive dental implants. That means any gum disease or tooth decay needs to be treated and removed before you can begin the process. You'll also need to be dedicated to routine dental appointments and consistent at-home oral care. These factors, as well as the amount of bone tissue you currently have, all affect the success of your dental implant surgery.
Thankfully, you can feel confident about your next dental implant treatment when you visit a professional. If you're interested in receiving dental implants to replace missing teeth, schedule an appointment with an implant dentist in Jonesboro today!
About the Author
Dr. Sarah Yarnell earned her dental degree from the University of Tennessee. As a dentist who takes continuing education seriously, she's dedicated her time to acquiring the skills and training necessary to place and restore dental implants entirely in her office. To learn more about treatment or meet Dr. Yarnell in person, you can contact her through her website.