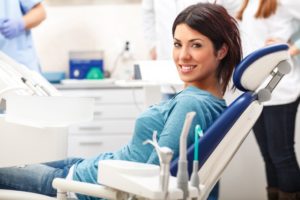 Each year, millions of Americans reach January 1st without using their dental benefits. That totals up to $152 billion in lost dental dollars every year. It's true, most dental benefits don't rollover into the new year, so if you don't use your benefits before January 1st, they're gone forever. Those are your hard-earned dollars going to waste! Keep reading to discover how to save money with your dental insurance and why it's important to see your dentist in Jonesboro before the end of the year.
What's Your Yearly Maximum?
Your yearly maximum is the most amount of money your dental insurance plan will pay for your dental work in one year. The issue is that most people don't reach or exceed their maximum by New Year's, which means they're leaving money on the table at the end of the year. The average annual maximum is around $1,000, and the key to getting the most out of your insurance is to try to use up this money before it's lost forever on January 1st.
What's Your Deductible?
Your deductible is the amount of money you have to pay out of pocket before your insurance plan will pay for any dental services. This dollar amount can vary from plan to plan, and it may be higher if you choose an out-of-network dentist. The average deductible is around $50 per year, and you should keep in mind that it restarts with the new year as well.
Do You Pay Premiums?
If you pay premiums out of every paycheck, you should definitely be using your benefits! Premiums allow you to save costs on dental work, but if you don't visit your dentist, you're just throwing money away. Even if you don't need any treatment, regular checkups and cleanings are usually 100% covered by most plans. Those visits are a great way to utilize your benefits and keep your mouth healthy by preventing dental issues before they even happen.
How's Your Oral Health?
Visiting your local dentist can help prevent and detect early signs of issues like cavities, gum disease, and much more. By delaying treatment you need or putting off routine checkups, you're putting yourself at risk for more expensive and extensive treatments down the road.
Routine checkups give your dentist an opportunity to take X-Rays to check for any dental problems that can't be seen with the naked eye. These checkups are imperative to your health, but they can also save you money by catching issues before they develop into something much more serious.
As mentioned above, preventive visits are usually covered, so it's best to cash in on your benefits to keep your mouth healthy. Restorative treatments are partly covered by insurance, but you'll be paying much more out of pocket to fix an issue than to prevent it in the first place.
Now that you know how to get the most out of your dental benefits, do you have an appointment scheduled before New Year's? Contact your local dentist to save money and keep your mouth healthy.
Meet the Dentist
Dr. Sarah Yarnell enjoys providing quality care to her patients in a friendly environment. With a wide-range of services at her practice, she can take care of your whole family's dental needs. She accepts most major insurance providers, and her caring staff are experts on maximizing your benefits. She currently practices at Woodsprings Family Dentistry, and she can be contacted through her website or by phone at (870) 932-8488 for any questions.