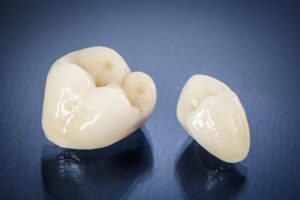 If your dentist recommends you receive a crown or another restoration, your first instinct might be to delay the treatment. You don't have time in your schedule for a procedure that will require multiple appointments. Not to mention, no one looks forward to holding a foul-tasting impression material in their mouth. What if you could get a high-quality restoration in one day without needing a traditional impression? Now you can with CEREC in Jonesboro. State-of-the-act technology streamlines the treatment and enhances overall patient comfort without compromising the results. You'll have a durable, custom-fit restoration that looks and feels natural.
Traditional Crowns VS CEREC
The traditional process to receive a crown typically takes at least 2 appointments to complete. During the first visit, your tooth is prepared and reshaped to allow the crown to fit over it. You'll then need to hold an impression material in your mouth for several minutes. This can be uncomfortable, especially for patients who have severely damaged teeth, a strong gag reflex, or jaw pain.
The impression is used to create your new restoration to meet your exact specifications. This can take the dental lab a couple of weeks, so you'll need a temporary crown in the meantime. After it's ready, you return to your dental office to have it bonded to your tooth.
CEREC Restorations
CEREC technology will save you time and money when needing a restoration. After your tooth is prepared, you won't need a traditional impression. Instead, a digital scan of your mouth is taken to get the information needed to design your crown.
The scan integrates with CAD/CAM technology, where your dentist creates your restoration to meet your exact needs. The information is sent to an in-office milling machine. It cuts your restoration from a single block of all-ceramic material in about 1 hour. There's no need for a temporary crown or second appointment. The entire process can be performed in a single afternoon.
Besides crowns, CEREC can also be used for other treatments as well, like porcelain veneers and onlays. No matter the treatment, you'll enjoy natural-looking results without the headache or hassle of the traditional method.
Benefits of CEREC Technology
Although the traditional process is effective, there are several benefits of CEREC technology, such as:
No messy, uncomfortable impressions.
Improved accuracy to remove room for error.
All-ceramic material looks natural.
No temporary crown.
No second appointment
Durable to last a decade or longer.
Cost-effective.
Enjoy the Latest Technology
Your smile deserves to benefit from the best dental innovations. If you need a crown or another restoration, it is time to experience the difference with CEREC same-day dentistry.
About Dr. Sarah Yarnell
Dr. Sarah Yarnell enjoys helping her patients achieve optimal oral health using proven solutions in dentistry. She regularly completes continuing education courses and embraces the latest technologies to provide modern dental care. She can help you maintain a healthy, beautiful smile. If you need a dental restoration, Dr. Yarnell offers same-day dentistry with CEREC. Contact our office today to schedule your consultation.