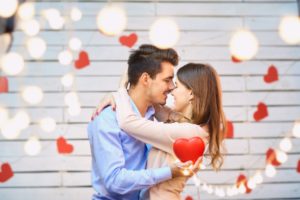 A beautiful, bright smile is attributed to youth, happiness, confidence, and success. Unfortunately, 1 in 4 adults is embarrassed by the way their teeth look. If your loved one doesn't smile their brightest because they have anxiety about stains or discoloration, give them the gift of confidence for Valentine's Day. Instead of wasting money on flowers or candy, give the special person in your life a stunning smile with professional teeth whitening. 
OTC Whitening Products VS Professional Teeth Whitening
OTC whitening products come in multiple forms. Whether toothpaste, gels, or strips, they don't provide noticeable or lasting results. No OTC products contain professional-grade whitening agents. Not to mention, not all stains respond to teeth whitening.
Teeth come in many shades and tones naturally. They also change color over the years for various reasons, like diet, oral hygiene habits, smoking, and age. Not all types of discoloration can be treated with traditional teeth whitening.
You can save your partner from disappointment by choosing a cosmetic dentist to revamp their smile. They'll determine the source of their discoloration to ensure teeth whitening is right for them. They will create a personalized treatment plan to create the stunning smile your loved one desires, which may include:
In-Office Whitening: A protective barrier is placed over the lips and gums before the whitening agent is applied to the teeth. A special dental light activates the whitening ingredients to penetrate the enamel to resolve stains. Teeth can get up to 8 shades whiter in about 1 hour.
At-Home Whitening: An at-home kit from a dentist provides in-office results in about 2 weeks. The trays and whitening gel are used daily to gradually improve the color of teeth. A take-home kit is also a great option for touch-ups.
Maintaining Teeth Whitening Results
Your partner can enjoy a gift that keeps on giving because results can last for many months or years, depending on their aftercare routine. They can get the most from your investment by:
Brushing and Flossing: A good oral hygiene routine at home will remove food particles and plaque for clean, healthy teeth.
Avoiding Dark Foods and Drinks: Limiting dark foods and drinks will prevent new stains.
Living a Healthy Lifestyle: It's best to avoid smoking and tobacco to prevent tar and nicotine stains.
Regular Dental Care: A cleaning and checkup every 6 months will promote healthy teeth and gums.
Your partner will have a million reasons to smile on Valentine's Day. You can turn the smile of their dreams into reality by gifting a professional whitening treatment.
About Dr. Sarah Yarnell
Dr. Yarnell earned her dental degree from the University of Texas and a Master's in the College of Sedation Dentistry. She regularly completes continuing education in many specialties, including cosmetic dentistry, IV sedation, and more. Request an appointment through our website or call (870) 340-2187.