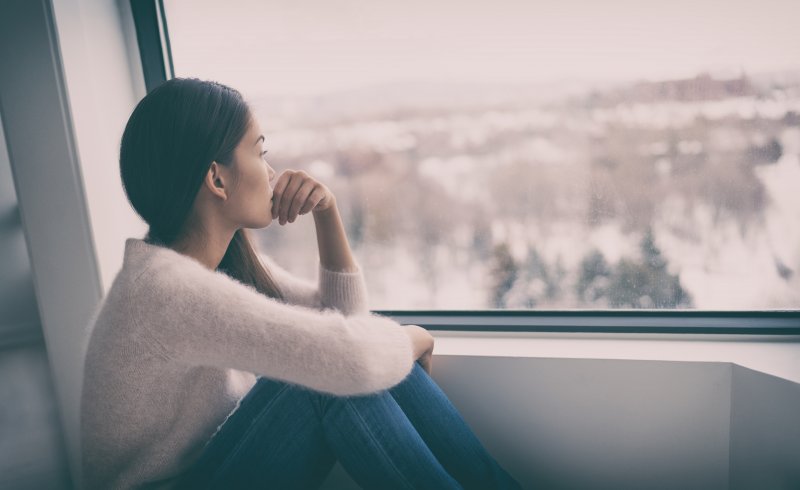 Gum disease is one of the most prevalent dental issues out there. Not only can it make you more vulnerable to tooth loss, but it's also been linked to other health concerns like diabetes, lung infections, and heart disease. But did you know it can also negatively affect your emotional well-being? Keep reading to learn about the connection between gum disease and mental health, and what you can do to improve your condition!
The Link Between Gum Disease & Mental Health
Periodontal disease is an infection that's typically caused by bacteria found in the accumulation of plaque and tartar. This condition is usually a result of poor oral hygiene, meaning the best way to prevent the illness is by brushing and flossing your teeth regularly every day. Without a solid cleaning routine, gingivitis can advance and lead to severe tooth loss.
Not only can the harmful bacteria affect your pearly whites, but they can also become powerful enough to escape into your bloodstream. This means the germs can travel to other vital parts of your body, increasing your chances of issues like heart attacks, respiratory infections, autoimmune conditions, and even memory loss. According to a study from the University of Birmingham, those with gum disease have a 37% increased risk of mental illness, such as anxiety and depression. The more advanced the infection becomes, the bigger the impact it has on your quality of life.
How Can You Boost Your Oral & Mental Health?
Now that you know the influence gum disease can have on your bodily and emotional health, you'll want to implement solid dental habits to maintain a healthy smile. One of the best ways to avoid periodontal infection is to practice good oral hygiene daily. Not only will you want to brush for two minutes twice a day, but you'll especially need to floss between your teeth at least daily, as this is where plaque and tartar can build up the most. You should also rinse with antimicrobial mouthwash for extra cleaning power.
On top of your daily oral hygiene routine, you'll want to visit your dentist every six months for checkups and cleanings. They'll be able to thoroughly remove plaque and tartar and polish your smile as well as monitor your oral health for any signs of gum disease. If they detect anything, they'll be able to provide the necessary treatment (like periodontal therapy) before it can become a bigger problem.
So, if you notice any indications of gum disease, don't hesitate to contact your dentist for help. They'll be more than happy to help restore your smile to good health and improve your quality of life in the process!
About the Author
Dr. Sarah Yarnell received her dental degree from the University of Tennessee and has been delivering outstanding care for over a decade. She also routinely pursues advanced training to expand her techniques. She offers a wide selection of high-quality and comprehensive services, including periodontal therapy. If you'd like to schedule an appointment, visit her website or call her at 870-932-8488.