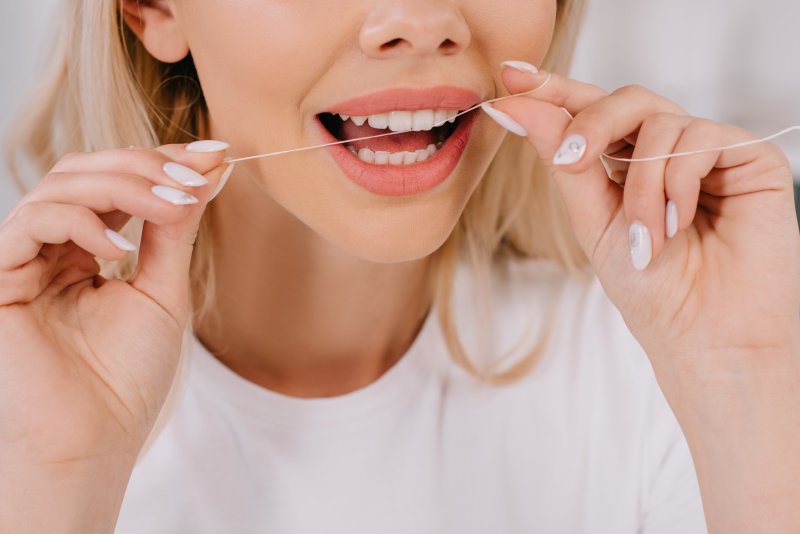 As you brush your teeth at the end of a long day, you can't help but feel proud of yourself. Despite an immense workload and an inviting bed, you've still managed to keep up with your thorough oral care routine. Now that you are threading the floss in between your teeth, you notice your gums are starting to bleed again. After three nights in a row, you find yourself wondering, "Is something wrong?"
Experiencing bleeding while flossing is common, but it shouldn't be dismissed. Your dentist in Jonesboro shares common causes, prevention tactics, and the proper flossing technique.
3 Common Causes of Bleeding Gums While Flossing
Infrequent flossing – When the plaque and tartar on your teeth start to settle into the tiny crevices in your mouth, it can inflame your gums. The longer the bacteria are allowed to collect, the more irritated your gums become. This makes them prone to bleeding, which is why it often occurs after days, weeks, or months without flossing.
Gum disease – Often referred to as gingivitis, gum disease affects more than 3 million people each year! Naturally, your body tries to fight off the disease by sending antibodies and nutrients through your blood. This can cause your gums to swell and make them prone to bleeding.
Aggressive brushing – When the bristles of the brush become soft, people often attempt to make up for it by scrubbing their teeth more aggressively. However, this can irritate your gums and cause them to become sensitive and prone to bleeding.
4 Prevention Tactics You Should Know
Like most dental issues, the best treatment option is prevention! To protect the health of both your teeth and gums, it is important to:
Implement a proper oral hygiene routine by brushing twice a day and flossing daily.
Visit your dentist bi-yearly for visits.
Quit poor dental habits, like smoking.
Make consistent, proper flossing a priority.
5 Easy Steps to Flossing Properly
There are two crucial components to properly flossing: frequency and technique. According to the American Dental Association, adults should floss once per day. While some prefer to do it in the morning and others right before bed, the time of day isn't as important as the technique you use. Below are five easy steps to flossing properly:
Cut around 18 inches of floss or grab a floss pick.
Thread the floss between all teeth that are touching.
Keep the floss firmly placed against the side of your teeth and move it toward your gum line.
Gently dislodge any food or plaque that has wedged itself in between your teeth.
Use a clean section of floss to repeat the process to the remaining teeth.
Bleeding gums can happen to anyone. While it may not initially warrant serious concern, it is important to not dismiss it either. In addition to avoiding the common symptoms, make sure to also implement the above prevention tactics to ensure that you can enjoy a beautiful, pain-free smile for years to come!
About the Author
Dr. Sarah Yarnell obtained her D.D.S. degree from the University of Tennessee and is a Master of the College of Sedation Dentistry. Plus, she continues to further her expertise with continuing education courses! With her extensive experience and passion for dentistry at her side, Dr. Yarnell provides exceptional dental care to patients at Woodsprings Family Dentistry. If you would like to schedule an appointment with her, don't hesitate to visit her website or give her a call at 870-932-8488.