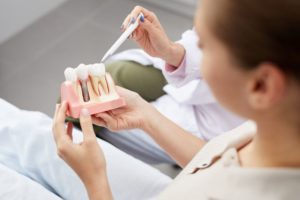 You've been doing fine with your dentures the last few years, but the more you've heard about dental implants, the more intrigued you've been about upgrading your smile.
It is a major, long-term decision for your oral health, so you want to cover all your bases. Why are you making the change? Are dental implants right for you? What's important for you to know about getting implants?
Keep reading to become more informed about the switch from dentures to dental implants in Jonesboro.
How Do I Know That Getting Dental Implants is the Right Choice?
Stability is a big plus for implants. They will not slip around in your mouth or feel like they could potentially fall out. There won't be any more dealing with raw spots or sore gums, plus food will not get trapped in your implants.
You're going to be able to eat all of the foods you like. You still need to be smart about it, of course, and not bite into anything you wouldn't do with your natural teeth.
You clean your implants like natural teeth, so there will be no more dealing with denture adhesive or soaking them in a glass of water.
What Does It Take to Be a Good Candidate for Dental Implants?
Your dentist is definitely going to examine the density of your jawbone during your consultation. When your natural teeth are removed from your gums and jaw and are not replaced with anything, your jawbone begins to shrink.
The implant procedure cannot succeed if you don't have enough bone, because the implants need to fuse to it over time. Your dentist will be able to determine if you need a bone graft. That will require 4-6 months of recovery time for the new bone to fuse to your jawbone and only after that is complete can you potentially move forward with an implant procedure. Other qualifications include a commitment to a good oral hygiene regimen, not smoking, and no existing oral health problems like gum disease.
What Do I Need to Know About Getting Dental Implants?
The implant procedure requires minor oral surgery. After placement is complete, you will need to go on a soft foods diet for a while during the healing process. This usually lasts 3-6 months while your jawbone fuses to the implant screws.
Just as you wouldn't lift a heavy box while recovering from back surgery, it will be crucial after implant placement that you do not place any undue strain on them. If they shift or heal crooked, it will compromise the quality of your results. Your dentist will tell you when healing is complete and clear you to return to your normal diet.
Taking care of your implants will be very simple, considering you use the same regimen you do for your natural teeth. Brush them daily and when you are flossing, be sure to get the area where each dental crown connects with its implant.
After surgery, the recovery is going to take some discipline on your part, but it's going to be worth the trouble because the best alternative to natural teeth can last you decades with proper care. Success rates of dental implants depend on where in the jaw they are placed, but in general, implants have a success rate of up to 98 percent. You can learn more in a consultation with your dentist while they determine your eligibility.
About the Author
Dr. Sarah Yarnell earned her Doctor of Dental Surgery from the University of Tennessee. She is a Master in the College of Sedation Dentistry, so oral conscious sedation or IV sedation is available for patients who ever need it during a procedure. She offers multiple options for dentures in Jonesboro, but if you are ready for the move to dental implants, the calming sedation options will be beneficial, and the entire procedure will be completed in-house. To schedule a consultation, visit her website or call (870) 932-8488.