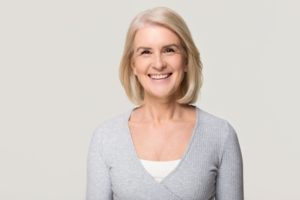 Ah, dental fillings—nobody wants to hear that they need one, but this treatment is one of the most common restorations a dentist can offer. In fact, over 90% of Americans have had at least one cavity. However, modern dentistry has brought you more options than ever before when it comes to fillings, so which one should you choose: tooth-colored or amalgam? Read on to learn the top 5 reasons why tooth-colored fillings in Jonesboro are far superior to their metal counterparts.
#1. Appearance
Instead of noticeable, dark amalgam fillings, tooth-colored restorations are made of special resin that matches your natural smile. Your dentist will use tooth-colored resin to repair the affected tooth without compromising your beautiful appearance for a seamless treatment. Keep in mind that this benefit is especially important when it comes to cavities or damage in the visible portions of your mouth.
#2. Comfort & Safety
The metal material used for amalgam fillings can expand and contract with temperature fluctuations. Drinking or eating items that are really hot/cold and weather can cause this to happen, which leads to sensitivity and potential for dental damage due to too much expansion and contraction. Thankfully, tooth-colored fillings are made of composite resin, eliminating this problem as a possibility for a safer and more comfortable smile.
#3. Conservative Treatment
Amalgam fillings require the removal of a significant amount of tooth enamel so they can be properly placed. However, tooth-colored fillings are able to form a strong bond with minimal amounts of the damaged enamel removed during the process. This also helps maintain the strength of your tooth and minimizes the risk of issues in the future.
#4. Durability
You may assume that tooth-colored fillings are much weaker than amalgam, however the composite resin can last for up to 15 years with proper care. Just make sure that you visit your dentist for routine checkups and maintain a good dental hygiene routine, including brushing and flossing.
#5. Confidence
Have you been afraid to open your mouth and flash your teeth in public due to your decay or noticeable metal fillings? No need to worry! Tooth-colored fillings will restore your appearance and self-esteem at the same time, giving you the ability to show off your pearly whites in your professional and social lives with ultimate confidence.
Are you ready to start enjoying the benefits of tooth-colored fillings? It's as simple as calling your dentist! Schedule an appointment to restore your smile with health and beauty.
Meet the Dentist
Dr. Sarah Yarnell is an experienced dentist who is specially trained in sedation dentistry—she loves helping her patients feel calm and relaxed during their appointments. She offers a wide range of treatment options, including amazing tooth-colored fillings. To request an appointment, she can be reached through her website or by phone at (870) 932-8488.