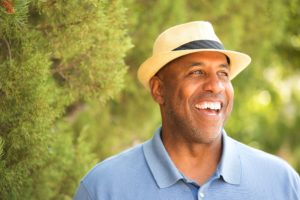 About 3 million adults in the United States currently have at least one dental implant, according to the American Academy of Implant Dentistry. That number is only expected to grow by about another half a million a year. Why have so many people chosen them over other tooth replacement options? They offer countless benefits that bridges and dentures simply can't deliver. Let's take a closer look at a few of the reasons why dental implants in Jonesboro are so popular.
They Prevent Bone Loss
After you lose even one tooth, your jawbone starts to change shape. Without the tooth's roots to stimulate it through biting and chewing, it begins to atrophy. Over the years, the bone becomes unable to support your facial muscles, causing your skin to prematurely wrinkle and sag.
Dental implants can prevent this problem. By fusing to your jawbone, they act as your natural tooth roots and promote new bone growth. This keeps you looking young for years, possibly even decades, to come!
They Can Last 30+ Years
Traditional dentures need to be replaced every 5-7 years, while dental bridges usually only last about 10-12 years. Dental implants, on the other hand, have a much higher success rate. Because they form such a strong bond with the jawbone, they are able to last for several decades if you take proper care of them.
They're Easy to Maintain
It can be difficult to effectively clean a dental bridge because you have to carefully thread floss underneath it. Dentures also require a bit of extra maintenance since you have to brush them along with your gums, tongue, and palate.
Taking care of dental implants, however, is actually quite similar to caring for your natural pearly whites. Simply brush and floss daily, as you normally would, and visit your dentist for a checkup and cleaning twice a year.
They Look and Feel Natural
Whether you get your implants restored with a crown, bridge, or denture, your new teeth are designed to perfectly mimic the size, shape, and color of your original ones. You'll be able to smile with confidence knowing that only your dentist can tell you even have implants.
Instead of sitting on top of your gums, dental implants fully integrate with your jawbone to create an extremely secure attachment. Not only will your implants feel just like your natural teeth, but they'll be strong enough to stand up to the crunchiest, chewiest foods.
With all of these benefits, it's no wonder dental implants are as popular as they are. If you're interested in replacing missing teeth with the most lifelike and modern solution that dentistry has to offer, call your dentist to learn if dental implants are right for you!
About the Author
Dr. Sarah Yarnell earned her Doctor of Dental Surgery degree from the University of Tennessee and is a Master of the College of Sedation Dentistry. She has undergone advanced training in dental implants, so unlike many general dentists, she can surgically place implants in her own office instead of having to refer you to an outside specialist. To learn more about whether you're a good candidate for implants, visit Dr. Yarnell's website or call 870-932-8488.