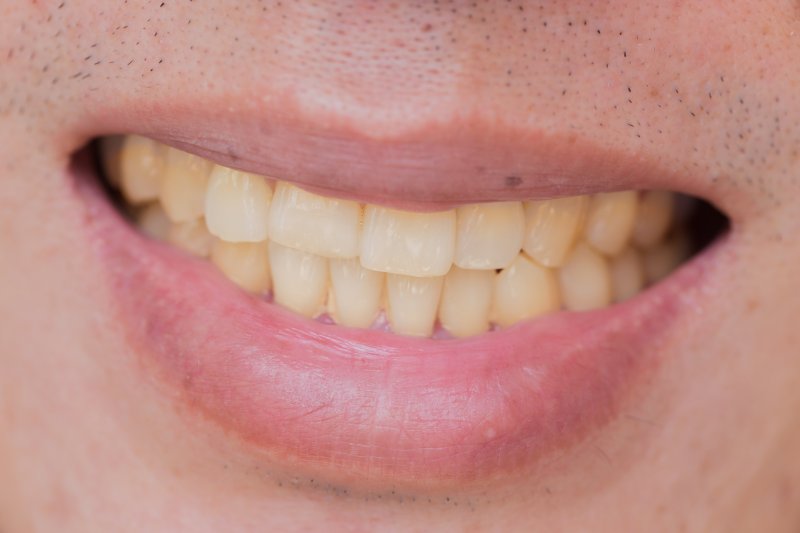 While no one wishes to have yellow teeth in their smile, this is unfortunately one of the most common dental problems people experience. Additionally, there are various factors that can contribute to dental discoloration, making it difficult for the average person to avoid the issue. The good news is that you can opt for cosmetic dentistry to help you achieve a smile you can be proud of. Read on to learn the six main causes of yellow teeth and how you can address them!
#1: Natural Wear Over Time
Although your enamel is the hardest material in your body, it isn't indestructible. After years of eating, talking, and doing everyday oral tasks, your teeth are likely to gradually wear down. As your enamel wears away, your smile can become increasingly vulnerable to discoloration. To turn back the clock on your pearly whites and blast away the stains, you can undergo professional teeth whitening.
#2: Overindulgence In Dark-Colored Foods
Do you tend to enjoy a morning cup of joe? Do you often snack on blueberries? While many dark-colored treats and beverages are tasty and enjoyable, they are also some of the biggest culprits behind yellow teeth. They typically contain natural sugars and acids that can make your enamel susceptible to dark-colored particles to penetrate your smile. You can easily reserve diet-related discoloration with either an in-office or at-home whitening treatment.
#3: Poor Oral Hygiene
One of the most common causes of yellow teeth is a lack of oral hygiene. By brushing and flossing your teeth frequently, you'll effectively clear away most particles that can stain your smile, such as debris and bacteria. In some cases, you can easily restore the shine in your pearly whites by scheduling professional dental cleanings or using ADA-approved whitening toothpaste.
#4: Overexposure to Fluoride During Childhood
While fluoride is essential for preventing tooth decay, being exposed to too much of it during childhood can cause your smile to develop moderate to severe stains. If the discoloration isn't too heavy, then you might treat it with professional teeth whitening. But if the stains are more intrinsic, you should consider treatments like veneers.
#5: Smoking & Tobacco Use
Not only is tobacco detrimental to your oral and overall health, but it can also cause serious discoloration in your smile. These products are packed with dark-pigmented particles that will linger and penetrate your enamel. Though whitening treatment can often make a noticeable improvement, alternative cosmetic dental work may be a more ideal option.
#6: Genetics
Dark or yellow teeth can sometimes be a hereditary condition. Since this issue can be passed down via certain genes, the discoloration it causes may not respond well to professional teeth whitening. Instead, you may have to consider other options like veneers to conceal the dental flaws.
Feel free to ask your dentist about cosmetic dentistry if you're struggling with yellow teeth. They'll be more than happy to determine the best way to help you achieve a brighter smile!
About the Author
Dr. Sarah Yarnell earned her dental doctorate from the University of Tennessee. She also regularly seeks continuing education to refine her skills and expertise. She provides a wide range of high-quality and comprehensive services, including teeth whitening and veneers. If you'd like to schedule a consultation, visit her website or call 870-932-8488.